The Glory Bugles put the fun
in fundamental!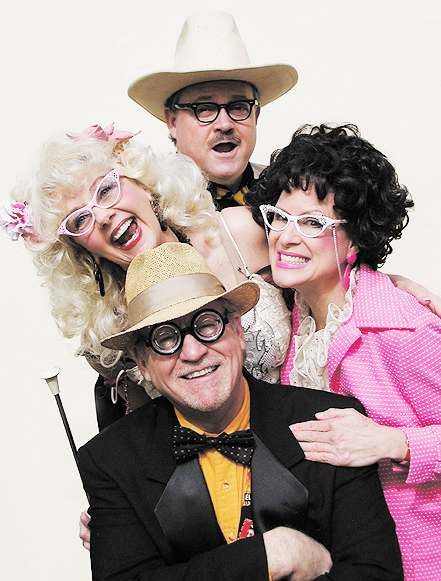 The Glory Bugles are
(above top from left to right):
Beulah Byrd (Bonnie Keen);
Farley T. Byrd, III (Wayne Gurley);
Queenie Delphine (Nan Gurley)
and (bottom) Dr. Harley E. Never, P.H.D.
(Stevan Pippin)
(Click a name above for bio information.)
The Glory Bugles...
"From Box Springs With Love"
From Box Springs with Love" is a comedy spoof of a bad Gospel quartet known as "The Glory Bugles." Four accomplished, award-winning performers magically transform themselves into a musically-challenged foursome from the fictional town of Box Springs, Tennessee.
The show offers plenty of the holiness-gone-haywire music from the group's "Get Right or Get Left" CD, including – "If Your Hair's Too Long There's Sin in Your Heart"... "If the King James Version Was Good Enough for John the Baptist (It's Good Enough For Me)"..."Hallelujah To Ya"...and "Heaven Yes...Hell No."
This crisply paced two-act show, complete with outdated hairdos and a painfully unfashionable wardrobe, features homespun advertisements from some of the group's local Box Springs sponsors.. a church budget committee meeting that involves the audience...and a slide show about the group's somewhat tortured touring history.
Think "A Prairie Home Companion," "Greater Tuna," and "Riders in the Sky," and you'll have a pretty good idea of what's in store in "The Glory Bugles: From Box Springs With Love."
"THE GLORY BUGLES" IS A REGISTERED
U.S. TRADEMARK.