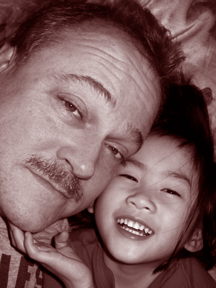 For bio information on the other players, click a name below:

Bonnie Keen
Nan Gurley
Steve Pippin
Wayne Gurley
(a.k.a. Farley T. Byrd, III)

A Dallas, Texas, native, Wayne's lifelong involvement with music began at age 12 when his aunt gave him a guitar that had once belonged to his late uncle. After a few lessons, he pronounced himself fit enough to form a couple of garage bands, two of which were named "Cloud Nine" and "The Islanders." These groups were skilled at such classics as "Louie, Louie" and "Last Train to Clarksville." Later, an interest in serious music established him as one of the top four high school tenors in state of Texas. (Never found out if he was first, fourth or somewhere in between.)

His musical interests soon led him to try some theater. His first acting role was that of Mr. McHabe in "Up the Downstair Case." In college, he appeared in "Fiddler on the Roof," "Spoon River Anthology" and as Don Quixote/Cervantes in "Man of La Mancha" (opposite his future wife, Nan, as Aldonza). After moving to Nashville, Wayne continued his theatrical odyssey in such roles as Frank Butler in "Annie Get Your Gun" (again playing opposite wife, Nan, as Annie Oakley), Sam in "Shenandoah" (appearing with his real father-in-law, Henry "Buddy" Arnold, as Charlie Anderson), Edward Middleton in Barry Manilow's "The Drunkard," and Peter Quince in Shakespeare's "A Midsummer Night's Dream." He has also supplied numerous speaking and singing character voices for various Christian music recording projects.

For a brief period, Wayne was managing director of Nashville's "Nightingale Theater," producing shows like "1776" and "The Importance of Being Earnest." With Nightingale, he ran the theatrical gamut, appearing once as the apostle Peter in Nightingale's production of "Beauty for Ashes," and later as Satan in Chip Arnold's "The Last Temptation." In the early 80s, along with fellow Bugles Nan Gurley and Bonnie Keen, he was a member of the Christian comedy, drama and music group, ARIEL, whose Reunion Records album, "Bless This House...Please" spawned the Glory Bugles and Wayne's "Farley Byrd" character.

He also has appeared on stage with some of Nashville's top classical musicians. For many years, Wayne sang with the Nashville Symphony Chorus, performing such masterworks as the Brahm's "Requiem," Bernstein's "Chichester Psalms," Beethoven's "Ninth Symphony" and Faure's "Requiem." For two consecutive years he was a featured soloist in the Symphony's performances of Handel's "Messiah," singing the "Comfort Ye" and "Every Valley" sections. One of these performances took place in Nashville's historic Ryman Auditorium where, coincidentally, the Glory Bugles also have appeared.

When he isn't Bugling, Wayne is president and creative director of Gurley/Allegiant Direct Marketing in Brentwood, TN. He is best known as Nan's husband ("Queenie" in the Glory Bugles), and proud father to daughters Erin (9) and Lena (5), pictured above with her Dad.